eco-friendly home cleaning for the Fox Valley & Western Chicago Suburbs
Eco-friendly products, even friendlier people.
Clove Cleaning is a premium, eco-friendly home cleaning service for the Fox Valley and Western Suburbs. Our service area includes Saint Charles, Geneva, Batavia, Naperville, Wheaton, Aurora, Elgin, and surrounding communities.
We are powered by essential oils, elbow grease, and a commitment to provide the best cleaning experience you've ever had.
Our homemade products and simple methods are tough on dirt & dust, but easy on people & pets, and safe for all types of surfaces.
---
What Our Clients Say
"This was the best cleaning experience I've had, ever. I love how friendly everyone was from getting a quote to the end of the services on the day of my appointment. I also love all the communication I received leading up to my appointment day. Everything was clear and concise, I knew exactly what was going on and when. The day of my appointment was great, everything went so well, I haven't found anything that was missed. Everything is sparkling clean and my house smells absolutely amazing. I love that they use homemade cleaners that are safe for my family, pets and the surfaces in my home. No harsh chemical smells, just lovely essential oil scents. I'm really looking forward to having them come out again to help this busy mom out! Thank you, Clove!"
★★★★★ Lisa - Yorkville
---
"Clove Cleaning has been the best cleaning service I have had since living here. Working and having 3 children, I cannot seem to get the cleaning details that Clove Cleaning never seems to miss! My house smells amazing after and the entire family enjoys coming home to clean house! I would highly recommend this cleaning service. 10/10 😀"
★★★★★ Samantha - Batavia
---
"Being a mom of a one and a half year old, I LOVE that this company uses eco-friendly cleaning products that are not harmful to the environment or children and pets. The crew of 3 ladies included the owner of the company and they were all friendly, professional and left my house very clean and smelling great! Every other company I spoke with said they would send a single person to clean the whole house which would probably take most of the day and also seems like abuse on employees. I loved that this company sent a crew of three people to get the job done in 2 hours!"
★★★★★ Maria - Batavia
---
"We had such an amazing experience with Clove Cleaning! We actually set up a one time clean, with no intention of scheduling a repeated service and we were so impressed that we decided to set up a monthly clean with Clove. Highly, highly recommend!"
★★★★★ Stephanie - Saint Charles
---
"Becca at Clove Cleaning cleaned my house yesterday and did an amazing job (and I am not an easy customer)! She made the bathrooms shine and my floors look fabulous. And her eco friendly cleaning solutions include a bit of essential oils...OMG...I am loving the way my house smells! This young woman is going places - grab her soon before she gets too booked up!"
★★★★★ Cathy - Batavia
---
"I was so happy when I found Becca and Clove Cleaning online and even happier after I met her. She is extremely personable and knowledgeable. She is the kind of person you trust having in your home. She works hard and did an incredible job cleaning our home."
★★★★★ Amanda - Saint Charles
---
"I'm a picky person when it comes to house cleaning. Becca met all of my expectations and exceeded some I didn't even know I had! Her eco-friendly products smell great. Becca is passionate about helping others keep their house clean. Do not think twice about hiring her!"
★★★★★ Erika - Batavia
---
"My husband hired Becca to come clean my house as a birthday present, and it was the best gift ever! She is so sweet and so efficient. Our kitchen floor has been in bad shape since we moved in, yet it was so amazingly shiny when she got done, even with the damage that was already there. Thank you!"
★★★★★ Chelsea - Batavia
---
"Becca has cleaned my house twice and both times has done a fabulous job. I have a very white dog who sheds in tumbleweeds and you wouldn't even know he lived here. Becca makes her own eco-friendly products cleaning which is one of the reasons I chose her to clean my home - the smell in the house is fantastic! I highly recommend Becca if you are looking for someone to clean your home."
★★★★★ Tricia - Saint Charles
---
Why Clove?
The personal touch of the local cleaning lady + the service & reliability of an established companySimple hourly rates + a custom cleaning plan designed for your home, lifestyle, & budgetFully-vetted team, insured & bondedLocally owned & operated by wife & husband
What We Do
KitchensBathroomsBedrooms
FloorsCountersLiving Areas
---
The Clove Story
Clove Cleaning is owned and operated by wife-&-husband Becca & Tyler Berggren.

Becca's cleaning career began in Austin, Texas, working for an eco-friendly residential and commercial cleaning company.

After moving back to Illinois, Becca wanted to continue providing the same tried-and-true cleaning methods she fell in love with over the course of 1000+ cleans in the Lone Star State.

Today, Becca leads the Clove team in the field: cleaning, training, and consulting with clients, while Tyler manages Clove's business operations.

We guarantee your home has never felt (or smelt 😉) better than after a Clove Clean!

---
The Clove Team
Becca Berggren
Becca grew up in Brookfield, Sandwich, and Sheridan and now lives in Batavia with Tyler and Chuck. She enjoys running, hiking, and yes, cleaning.

She is passionate about caring for others and serving her community. She loves owning a business that provides a valuable service for its clients and leading a team of strong women... and her husband.
---
Haleigh Oest
Haleigh is from Geneva and currently resides in DeKalb. She enjoys backpacking, hiking, rollerskating, and tackling anything else life throws her way. Embroidery, drawing, and painting are just a few of her other favorite pastimes.

She loves the instant gratification of cleaning and the feeling of bare feet on a sparking floor at the end of a long day.
---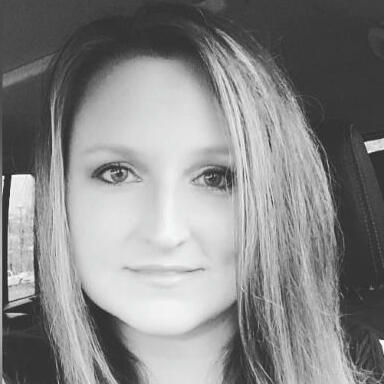 Jenny Rychter
Jenny hails from Batavia and is an avid lover of music and animals. She spends her free time playing music, creating costumes, drawing, and practicing photography.

She's motivated by seeing results when cleaning. She loves making a noticeable difference in a home.
---
Tyler Berggren
Tyler grew up in rural LaSalle county and now lives in Batavia with Becca and Chuck. He's passionate about entrepreneurship and technology.

He appreciates running an honest service business that does a great job for its clients and is a great place to work for its employees.
---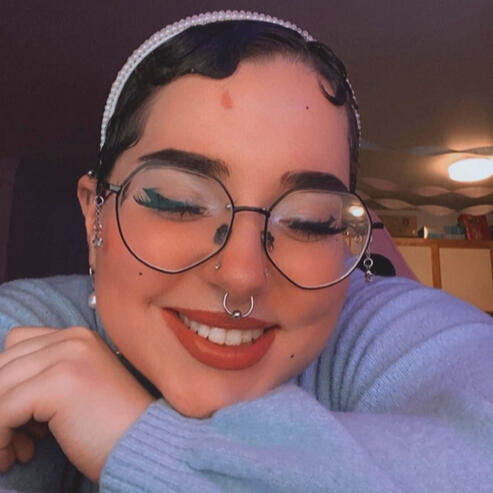 Chuck Berggren
Chuck was born in a pet shop in Plainfield and years later, found by Becca in a muddy Yorkville cornfield.

After a scary couple weeks in an animal shelter, he was adopted by Becca and Tyler and moved to Austin, Texas to start a brand new adventure. As much as he loved TX, he convinced Mom and Dad to move to Batavia, where there were better squirrels to chase.

He loves doing zoomies on clean hardwood floors and rolling around on freshly-made beds. He does not like the vacuum.
---
---
Request a Quote
We'll get back to you with a quote ASAP!
---
Join the Clove Team!
Looking for fun, fast-paced, good-paying, part-time work? Come clean at Clove!
Clove owners Becca & Tyler Berggren + chief sniff tester Chuck
---
Cleaning isn't for everybody, but if you're a team player, don't mind getting your hands dirty, and like the sound of $18+/hr for 18+ hours a week (8a-5p, M-F), you might love working with us.

Clove Cleaning is a premium, eco-friendly residential cleaning company serving the Illinois Fox Valley & Western Chicago suburbs. We are headquartered in Batavia, IL and service clients in Saint Charles, Geneva, Batavia, Naperville, Wheaton, Aurora, Elgin, and surrounding communities.

We're continuing to grow rapidly and are looking for talented, hard-working cleaners to join our team! Cleaning experience is welcome, but not required.
---
Working as a Clove Cleaner
• Up to 3 cleans per day, Monday - Friday, 8am - 5pm
• Typical clean length: 2.5 hrs
• Solo cleans and teams of 2 or 3
• Schedule set weeks in advance
• Paid weekly (direct deposit)
• Perks: 1 free massage appointment every month
• Great place to work: we're a small business run by a husband/wife team. We aim to be the best bosses you've ever had. We're passionate about our work and we respect, support, and value every member of our team.
Requirements
• Available for at least 18 hours of work per week (8a-5p, M-F)
• Live within a 25-minute drive from Batavia
• Willing to complete a 1-month pre-employment trial period where you'll be paid $15/hr for field training and expected to complete online training on your own time
• Your own vehicle (mileage reimbursed)
• Your own washer/dryer (detergent and washing machine cleaner provided)
• Your own smartphone
• Able to work 8 hours a day with repeated lifting, bending, twisting, and crouching
• Deep commitment to wowing clients
• Ability to problem solve and communicate clearly
• Be a genuine, kind person who listens to feedback and is always improving
---
Step 2
Your Clean Details
We need a few details to prepare your quote
---
Step 3
Final Details
Just a few final details and we'll be ready to prepare your quote!
---